Success story Industrial IoT solution Center in Jyväskylä
Over the last three years, Schaeffler's Industrial IoT solution Center in Jyväskylä, Finland, has grown from three employees to around 25. There is not one single explanation to this growth, there are several. We wanted to learn more about the success and met Jarno Suomela, Vice President of Solutions Business Development and one of the first employees of the office in Jyväskylä.
The team, location, and the beginning
The target for the Industrial IoT solution Center in Jyväskylä was from the beginning to integrate the team into Schaeffler's organization, and now they are an integral part of Schaeffler Lifetime Solutions innovating and developing new products for maintenance, condition monitoring, lubrication and maintenance installations. The team has wide range of roles and responsibilities: strategy and business development, partner and M&A management, Product Management, Research & Development, architecture, testing, quality and customer delivery. But how did it all start?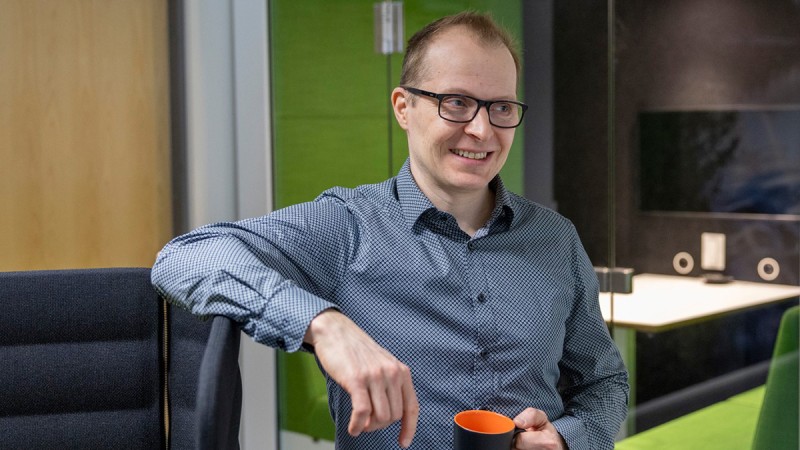 By basing a team in Jyväskylä, we were able to unite the local development unit, the technology ecosystem and the pilot customers in one place. Jyväskylä was also a good location to run the program for availability of key people for the program and industrial engineering knowhow. Following this strategic conclusion I was hired to set up a team here in March 2019, and very quickly I found two great team mates to start the journey together with.
The very first task the team received was to develop and launch a wireless condition monitoring solution in only one year. The project was strongly supported by the lead customer Stora Enso and the final product was named as OPTIME. OPTIME is a smart solution tool for conditioning monitoring that prevents unplanned downtime of machines. This was an immensely challenging target, and based on earlier experiences such development would take up to four years.
We had to seriously rethink the whole approach how to accomplish this, without giving a thought for the possibility that the task might be impossible. The first few months we screened our internal competences, knowhow areas, and partnering network. Following this effort, we soon figured out that Schaeffler's core knowhow for the project would be the vibration monitoring and understanding of the mechanical maintenance and leading the architecture and program including several partners. Simultaneously we selected core partners for the IoT-Platform and development, wireless communication stack, sensor development as well as manufacturing, gateway, design and user-experience and testing, says Jarno.
Due to the short timeline, it was essential that as many partners as possible would have existing technological and organizational links. Therefore, the partners were selected from Finland where there was an established ecosystem and existing cooperation between many of the key players. This was soon proven to be the right decision. And less than four months from the team joined Schaeffler, they already had a working prototype sensor with communication and cloud to the mobile phone application. Another four months later they installed the first 100+ sensors to customer's production environment as pilots.
"Such pace naturally required long days and a lot of commitment, and to achieve this we put specific focus on team building, not only internally, but also including the partners. The team encountered a long list of issues on the way but all of them were tackled persistently and the product was successfully launched in July 2020. This was almost in line of the original target timeline of one year, even despite the pandemic causing delays in the launching schedule, Jarno concludes.
The team's biggest achievement has been the very successful OPTIME project, which has gained a nice number of new customers and businesses for Schaeffler as well as several international innovation awards. But this is not all, Smart Lubricator OPTIME C1 has also been launched and more new innovative product projects are under development. Another achievement is that the team now also has a key role both as a team in Schaeffler and in the leadership team of Schaeffler Lifetime Solutions. The main success story is however so far, The OPTIME development project combining Schaeffler's knowhow with the external partner and lead customer network.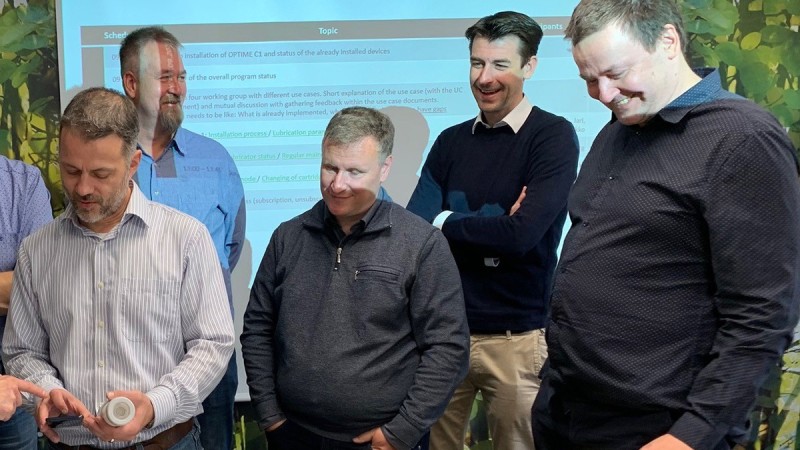 I am glad that we have been able to offer exciting R&D roles to Architects, Test Engineers, Product Owners or Project/Program Managers in an innovative and dynamic environment, says Jarno. We could not have done this without a very strong and continuous support from Schaeffler's Executive team and the vision of our Lifetime Solutions leadership team. I trust that by 2027 we have innovated and launched several new products to help our customers to "Keep their machines rolling" and we have also reached our growth targets by organic and inorganic growth steps, ends Jarno Suomela.
Del side